Swear It Again
Let's start at the beginning! Westlife's first single back in the mists of time (1999) was a reasonable indication of the path the band would take over the next 10 years: BALLAD O CLOCK.
Another clue as to their future style can be heard at the very beginning of this beginning: the tinkly glissando of pixie dust sprinkling itself over some plodding piano.
Saccharine tinkles and simple piano chords were both massively overused in 90s ballads - both good and bad. The chords in the opening bars of Mariah's version of "Without You" have a dogged determinism to them, whereas in "Everything I Do (I Do It For You)" they make Bryan sound triumphantly pompous. The tinkles in Toni Braxton's "Breathe Again" are more like hyperventilating tears at the end of each phrase, but in the hands of Max Martin they are a touch of icing sugar to sweeten the Britney/Backstreet slowjam experience for us all. Strangely enough Westlife's predecessors Boyzone mostly avoided the tinkle on their singles, preferring a godawful acoustic guitar to pick out their soppy intros.
In "Swear It Again" the chords and tinkles have little emotion to convey - they've been selected to smooth over the canvas and prepare us for an All-New Boyband who, as it happens, turn out to be very good at singing with each other. Almost too good! Having listened to the track several times I am just about able to pick out their different solo voices, but together on the chorus they become a single force with a standard deviation of approximately 0.05 (that was the as-promised science bit for this post). They are all singing the same note at the same time. You WILL remember this hook! We will drum it into your skull with our combined power! There's no distracting bassline and the super-high angelic synths are so buried in the mix you can barely hear them. The tactic works: I can now totally hum this chorus when prompted.
Apart from that chorus hook though, there's not much left to distinguish the song from the rest of the Westlife canon. The verses are the usual teenage heartthrob promising never to abandon the listener in their hour of need nor do them WRONG. However I should direct readers to the video above - the version made for Westlife's US launch. While the UK version has them sitting glumly around a dress rehearsal (perhaps waiting for the REAL video to be shot?), in America they are working in a car wash with some sexy ladies who do a DANCE ROUTINE. The boys look young, happy and excited. Well, most of them do: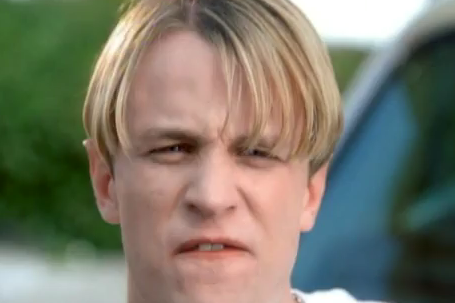 This one is Kian.